| | | | | | | | |
| --- | --- | --- | --- | --- | --- | --- | --- |
| About Us ∨ | About Plants ∨ | Shows & Events ∨ | Local Groups ∨ | Seed Exchange ∨ | Resources ∨ | Membership ∨ | Forum ∨ |
Plant Shows >
Club Events >
Blogs and Diaries >
Website links >
Previous Event Reports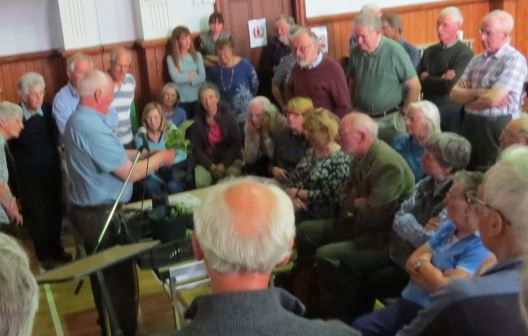 The SRGC runs events to promote rock gardening generally as an important part of its charitable aims. It joins with other horticultural organisations in some of these events. Many members and non-members help and attend these events which are an important part of the Club's charitable work in publicising rock gardening.
However many members are not able to participate because they live to far away, but they like to be kept aware of what happens at these events. We are pleased that members write reports. We are particularly grateful to Sandy Leven, and also to Stan da Prato for these writeups. Many members also post photographs on the SRGC Forum, often on the day or just afterwards.
David Boyd Events are financed by a generous legacy from David, who was a keen member of the Club. The SRGC Council have decided that the money should be used to finance events to take place in areas not otherwise served by our regular Shows or other Events. They are often run in conjunction with local gardening organisations with the aim of extending the outreach of the Club and bringing the appreciation of rock garden plants to gardeners who would not usually be able to attend Club activities.
Year
Date
Event
Details
Forum link
Reports (click to view)
----------

----------
-------------------------
-------------------------
-------------
-------------------------
20xx
.
.
.
.
.
.
.
.
.
.
.
2019
Sep 22
Late Bulb Show, Knightswood Community Centre, Glasgow


Talks and meeting in Glasgow.
Report


Sep 9
4th David Boyd Event, NTS Garden, Inverewe
Reconstruction of the rock garden at NTS Inverewe Garden, Wester Ross.
Report


Aug 17
Summer Meeting, Victoria Hall, Dunblane
An afternoon of fun in Dunblane.




Report


Jun 22-23
3rd David Boyd Event, Lockerbie
Himalayan Weekend, a celebrating the plants of the Himalaya.
Link
Report,
Craigieburn Garden visit,
Glenae Garden visit,
Westerhall Garden visit
2018
Nov 18
Autumn Festival & AGM, Scone


AGM and talks.


Report
August
Dundee Flower & Food Show


Sandy Leven runs a stall at the Show.


Report


Aug 18
Summer Meeting, Victoria Hall, Dunblane


A day of plants and talks and meeting in Dunblane.


Report


Jun 21-25
2nd David Boyd Event, Benbecula, Western Isles
Workshops, talks & machair visits on the Isles of the Uists & Benbecula.
Container workshop
Our Road to the Isles
Kyle to Uig, across Skye
Benbecula - Machair
North Uist machair
South Uist machair
South to Eriskay

2017
Dec
RBGE Lights


A Christmas spectacular of lights at the Botanics.


Report


Nov
AGM & Autumn Festival 2017, Scone


A day of talks, plants and exhibits at Scone.


Report


July 8
1st David Boyd Event, Grant Arms Hotel, Grantown-on-Spey


"Rock Gardening from the Ground Up" - a day of lectures and practical demonstrations on rock gardening and Trough construction.
Link
Report


June
Gardening Scotland 2017, Ingliston Showground Edinburgh


Scotland's Gardening Show.


SRGC Display
Nursery Stands
More Stands
2016
Sept 25
A Celebration of Cyclamen, Penrith


A weekend of talks and a Show arranged jointly with The Cyclamen Society


Report
Aug
Summer Meeting, Victoria Hall, Dunblane


A day of plants and talks and meeting in Dunblane.


Report










Report










Report
2012
Aug
Summer Event, Victoria Hall, Dunblane
A day of plants and talks and meeting in Dunblane.


Report
2011
April
8th International Rock Garden Conference
Decennial Conference arranged with the Alpine Garden Society


Show Report










Report