| | | | | | | | |
| --- | --- | --- | --- | --- | --- | --- | --- |
| About Us ∨ | About Plants ∨ | Shows & Events ∨ | Local Groups ∨ | Seed Exchange ∨ | Resources ∨ | Membership ∨ | Forum ∨ |
Plant Shows >
Club Events >
Blogs and Diaries >
Website links >
The "International Rock Gardener" e-magazine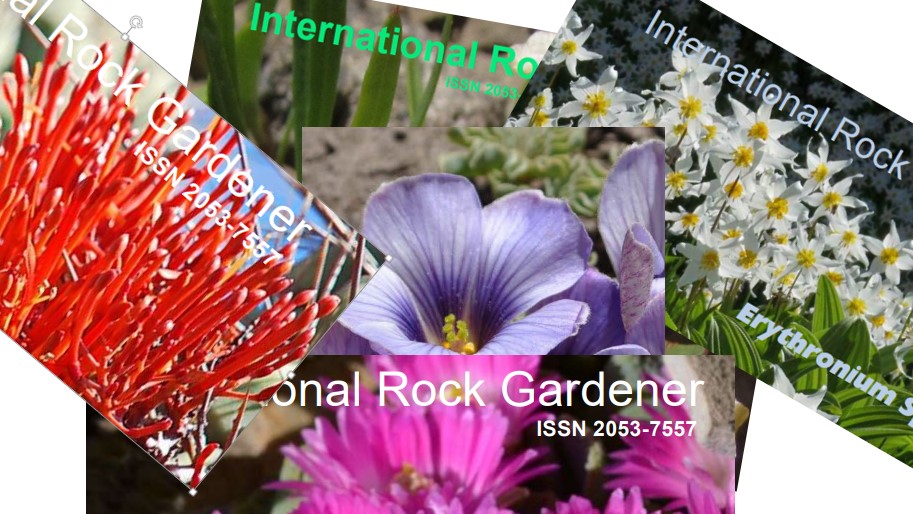 The Scottish Rock Garden Club is delighted to present this monthly online magazine for rock gardeners which is posted here at the end of each month as an Adobe pdf file. Adobe Acrobat Reader
can be downloaded free HERE.
Each issue has a mix of photo based items, our target being a minimum of pots and a maximum of plants in the wild and in gardens, from photographers in different countries. This will be an international celebration, if you will, of mountain plants in habitat and our gardens.
Our aim is to showcase the beauty of the plants, where they are found in nature or as they are used in garden settings and give brief comments on cultivation.
This e-magazine is coordinated, compiled and edited by Margaret Young, Zdenek Zvolonek and Ian Young.
The world of rock gardeners is just that: an international community of people with a deep interest in the flora of the mountains and wild places; we hope to provide a regular electronic glimpse of these plants.
YOUR contributions are not only most welcome; we are actively seeking your input which will be key to the vigour of this enterprise. To discuss ideas for articles, and submit material for inclusion in the IRG contact:
editor@internationalrockgardener.net
with the subject line "E-Magazine".
You can
download a Full Index to International Rock Gardener
. This was prepared by the late Glassford Sprunt for many years. It is a cumulative index, and is updated each month.
If you enjoy the IRG, then please consider making a donation to the SRGC. You don't need a Paypal account to donate via Paypal - just pick the "Donate with a card" option!